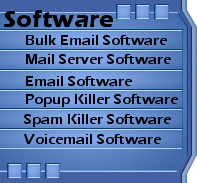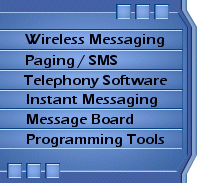 ShareMail
ShareMail is an email server based on windows. Quite different from usual mail servers, ShareMail only needs ONE legitimate email account , it expands the account to as many mailboxes as you need and still keeps everybody's privacy. ShareMail provides features including anonymous mailbox, broadcasting, mailing listing, auto-response, anti-Spam, email filtering, email management, email sending and receiving schedule, and many more...
WebGate
WebGate is a fast, easy, and reliable way to stay in contact with your out-of-office personnel. Includes a fully functional SMTP/POP mail server and allows for Internet paging and email notification or messages to be sent to pagers and cell phones
no photo available

E-Serv
Maintains Internet-accepted standards and makes it possible to organize mail and news exchange over local area network as well as sending/receiving external mail over the Internet. The server is controlled by the Web - interface (built-in Web-server) Also includes a SMTP - server, POP3 - server (can share one POP3 mailbox for multiusers), NNTP-server, HTTP-server (web - interface for others servers in package) and Proxy - server
no photo available

ITS POP3
is a high performance and comprehensive POP3 COM Object. With ITSPA-POP3, your ASP/VB or other COM environment applications can retrieve email from mail server based on POP3 protocol and parse email based on MIME. ITSPA-POP3 object features: Getting message header without downloading the whole message body; Getting unique message id from POP3 server; Abstracting header item; Providing methods to abstract most pop stuffs; Getting name and size of attachments; Saving attachments as another files and much more
Mail Verify
MailVerify works by performing a special type of DNS lookup . This lookup ensures that the domain of the email address is fully qualified to receive email. Although it is impossible for validation to be 100% foolproof, MailVerify can reduce the bad email addresses in your database by up to 70% or more! improvings the quality of your email addresses by filtering out more bad addresses than any email validation tool.
Share Mail Pro
With an exclusive domain and one mailbox from ISP, you can add or remove mailboxes at any time. That means you don't need to pay any extra money to your ISP for the mailboxes you add, perfect solution for small business. ..
Autoroute SMTP
Program is designed for automatic switching between SMTP servers depending on what network you are currently working in.
Magic Winmail
a professional and easy-use mail server software, supporting SMTP, POP3, WebMail, anti-virus, multiple domains, SMTP authentication, remote control, spam filter, user and domain alias, quotas, mail group, mail route,mailbox monitor and spy.
Advanced Email Parser
AEP is a powerful software allows to create the incoming email processing system automaticaly. AEP can be used to do the following jobs: processing of the order forms received via e-mail, sending replies to clients, filling order databases, processing new orders, sorting and redirecting e-mail message flows, compiling mailing lists, creating automatic answering services and other important functions.