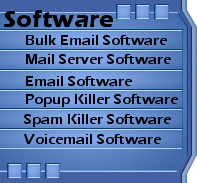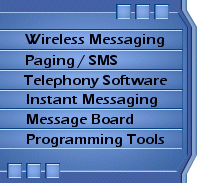 8/881/28/03
NotePage's proven technology continues to mobilize businesses and individuals.


With today's release of version 3.0 of NotePager Pro, companies are able to reduce the amount of time it takes to acknowledge and respond to urgent situations. This automatically improves efficiency, increases productivity and reduces costs.

NotePager Pro leverages the power of the Internet to send SMS and text messages to mobile phones and pagers. NotePager Pro is carrier and device independent. This means it will send to any carrier, phone, pager or wireless enabled PIM. In a cost saving measure, many telecom carriers are expanding their use of the Internet as a means of accepting messages. NotePager Pro takes advantage of these new capabilities by supporting all of the latest Internet messaging protocols: SNPP, WCTP, and SMTP.
cludes:
8/888/8/02
NotePage, Inc., a leading provider of wireless messaging software, is pleased to announce the release of its new Trusted Messenger product. Trusted Messenger is an instant messaging software solution that runs exclusively on a business's internal network, providing a secure solution that ensures confidential messages cannot be intercepted by outsiders.
cludes:
35/6/02
NotePage, Inc. has introduced PageGate version 4. PageGate is a complete text and SMS messaging solution that incorporates the latest protocols for sending messages via the Internet to pagers, mobile phones and other wireless devices.
By using the Internet as a means of accepting messages, wireless carriers are now able to save significant telecommunication charges. PageGate takes advantage of these new capabilities by supporting all the latest Internet messaging protocols: SNPP, WCTP, and SMTP. PageGate adds these new capabilities to its already powerful product which includes such things as redundant modem support, direct serial connection support, and support for tens of thousands of recipients on a single server.
cludes:
34/14/02
ASSEG, Inc - Automation-Specialists Software Engineering Group today announced the release of Mailbox Migration Manager 2.0, a software application that enables organizations to migrate Exchange mailboxes between Exchange sites, containers, as well as between Exchange organizations. Migrations are completed while preserving associated permissions, rules, distribution list membership, mailbox foreign language settings, and includes a utility to update desktop Outlook profiles for migrated mailboxes on client workstations.
cludes:
34/1/02
NotePage, Inc. and C.C.T.S Enterprises have partnered up to provide a combined solution that monitors Internet web sites and sends alerts to mobile phones, pagers or other wireless devices. C.C.T.S. Enterprises specializes in monitoring applications while NotePage, Inc., is a leading wireless messaging software company.
The combined Internet Services Monitor and NotePager Pro solution monitors multiple servers on the web and notifies system administrators of any critical failures. Administrators can now respond immediately, correcting any problems, minimizing and preventing any down time. As reliance on the Internet grows, administrators now can be immediately aware of any system failures.
cludes:
33/20/02
NotePage, Inc. a leading provider of alphanumeric paging and wireless messaging software solutions, is reaching out to paging and cellular providers through a new innovative program. Carriers and wireless resellers have long struggled with how to provide a complete solution, without incurring support expenses. Through a new program designed specifically for paging carriers, NotePage may have found just the solution.

During a recent study, NotePage has found that ninety percent of their customers purchase their consumer oriented paging software, NotePager Pro, by clicking the 'buy now' button imbedded in the software. By branding this buy now button, NotePage is able to compensate carriers and resellers for referrals. This special download allows paging carriers and resellers to earn money, while offering their customers a text messaging solution without the expense associated with inventory or support. Customers never leave the carriers website, adding even more value.
cludes:
| | | |
| --- | --- | --- |
| Company | Date of Releasese | Description |
| Send SMS Messages Anywhere, Anytime to Anyone | 1/28/03 | NotePage's proven technology continues to mobilize businesses and individuals |
| Trusted Messenger Instant Messagng Software You Can Trust | 8/08/02 | Secure Instant Messaging |
| | 5/06/02 | Redundant Mobile Messaging over the Internet |
| | 4/14/02 | Migrate Exchange Mailboxes |
| | 4/1/02 | Instant Notification of Web Failure |
| | 3/20/02 | Special Download for Paging and Cellular Carriers |
| | 3/18/02 | jBrowser is WAP 2.0 compliant |
| | 3/5/02 | XML Messaging Component announced |
| | 2/18/02 | iGo is announced |
| | 2/6/02 | Pink Notes Plus is announced |
| | 11/6/01 | Darn! Don't Forget! Goes Wireless |
| | 9/12/01 | Trigger SMS Messages From Business And Data Events |
| | 9/11/01 | Email Organizing Software Company Launches Affiliate/Reseller Program |
| | 9/4/01 | AccessPt. Takes Medical Info to Handheld |
| | 8/30/01 | Columbitech helps starch producer go wireless |
| | 8/27/01 | Find Out the Buzz about Messaging at Messaging-Software.com |
| | 8/18/01 | Paging Package Does It All! |
| | 8/01 | New merchant account program a boon to small / home businesses and startups |
| | 8/01 | Instant Messaging for Businesses |