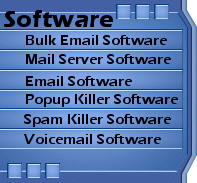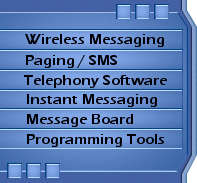 The Bat!
a powerful, highly configurable, yet easy to use email client. We've designed it especially to help you deal with your growing volume of email as quickly and efficiently as possible, saving much of your precious time. Use all its powerful features at home or at the office to handle your email naturally - the way you want and how you want, simply and directly.
Poco Mail
Email client software, with a specific focus: to allow you to take full potential of e-mail, whether you get one or one hundred messages a day.
Advanced Email Parser
AEP is a powerful software allows to create the incoming email processing system automaticaly. AEP can be used to do the following jobs: processing of the order forms received via e-mail, sending replies to clients, filling order databases, processing new orders, sorting and redirecting e-mail message flows, compiling mailing lists, creating automatic answering services and other important functions.
G-Lock Email Processor
Email Processor is a powerful tool designed to automatically process incoming Internet emails such as bounced/undeliverable, subscribe/unsubscribe requests, etc. The program is easy to use and provides a wide range of features to process your incoming email, automatically extract data, perform other actions based on the message content.
Email via Phone
Now you can listen to your e-mail using any touch tone phone, anywhere anytime. E-mail Via Phone TM is a software product which runs on your home or office PC and lets you access your text E-mail messages using Microsoft (R) text-to-speech technology.
Active Email Monitor
Active Email Monitor is an email utility that can check multiple accounts for email, but it can do so much more. The program is more than just an "email checker" and can protect you from garbage mail and harmful elements that are often sent via email.

Active Email Monitor serves to protect from junk email because it serves as a SPAM filter. You can use the program to create any number of filters and thereby cut down on the amount of "junk" email you receive.
Mailbag Assistant
If you're buried in e-mail, Mailbag Assistant will save you time and frustration. This e-mail organizer complements your mail program and offers powerful tools to search, sort, export, extract information, and archive your messages. It complements your mail program, opens all your messages with ease, and leaves your original e-mail folders completely intact. Use it to find relevant correspondence fast, extract attachments and HTML messages, create compressed e-mail archives, export messages, and much more
TickerMyMail
Add new features to your mail-client : Your emails on top of your screen as a ticker TickerMyMail checks at regular intervals to see if you have new mail and posts the most important information along the top of your screen as a ticker.
DzSoft Mail Check
DzSoft Mail Check lets you quickly see if you have new mail waiting in any of your POP accounts and clean them from spam. Handles unlimited number of email accounts. Can protect you against I-Worm.Sircam virus. Skinnable interface.
FollowupXpert
easily create autoresponder systems ranging from the simplest auto-reply autoresponders to automatic follow-up machines sending out messages to your prospects at predefined time intervals.
Pop Peeker
Pop Peeker is a program that runs in your system tray, which allows you to monitor multiple Pop3 E-mail accounts with out having the hassle of having multiple E-mail programs open at once. Pop Peeker is designed in such a way to run in your system tray, and check you Pop3 E-mail accounts at certain intervals of time for new mail. Once new mail is found on the server, you can then preview, reply, or delete the message(s).
Peek@Mail
the email client that gives you the option to filter and delete email before it gets to your PC. Peek@Mail is different because it can check the email server and let you filter and delete unwanted email before it gets to your PC.
Talking Email
is a highly customizable, super cool E-mail notifier that enables you to listen to your incoming messages as they arrive, via animated characters. It includes a built-in configuration wizard that will have you listening to your E-mail in no time, and requires no special hardware other than a standard sound card.
Email Watcher
Email Watcher is an e-mail notification program that can check an unlimited number of POP3 email accounts. Events and filters can be applied to the incoming mail to play a wave file, popup a message screen or delete the incoming mail. Events can be applied to individual accounts, all accounts or to a specific incoming message based on the criteria you select. Delete events are especially useful for deleting junk mail or potential viruses.
IncrediMail
an advanced, feature-rich email program that offers you an unprecedented interactive experience. Unique multimedia features will enable you to tailor your email experience so that it fits your mood and personality. Visual effects will entertain your every sense.
Lydia Email Agent
monitors up to 15 email accounts. Lydia will notify you of new email and trap unwanted email (Spam). In addition with Lydia you can read, reply to and compose new email messages. Lydia does all of this without actually downloading the email to your computer so you can work with your email in Lydia and still retrieve it later with your regular email program .
eMail Com Object
sending & receiving email messages. - retrieve messages from existing folders. - receive or modify message contents and attachments .
Mail Signature Pro
Mailer signature is a plugin for Winamp which adds name of currently playing song to your e-mail signature.
Talky Mail
Enable your Mailbox to speak to you, tell you how many emails you have, and will read them to you. You can let TalkyMail read your emails, web pages, documents, help files, clipboard content or just about any other text. TalkyMail is an award winning and advanced email client that supports multiple accounts if you have more than one account with many ISPs.
Advanced Maillist Manager
Advanced Maillist Manager (AMM) is designed to process incoming messages that contain subscribe/unsubscribe/etc requests. A set of rules allows flexible adjustment of criteria for detection request messages. Using the template editor, you can change appearance of auto replies sent to users.
Outlook Attachment Sniffer
With Outlook Attachment Sniffer you can extract ALL attachments from ALL items (mails, tasks...) from one of your Outlook folders (with or without subfolders in one go! Optional you can: - create subdirectories for each Outlook folder. - create subdirectories for each senders name of an email. - move emails to another folder after extraction. - delete extracted attachments or delete the email itself.
no photo available

Speak & Mail
Speak & Mail 2000 will notify you when new mail arrives by reading the message header and contents according to your preferences (Supports multiple email accounts). Speak & Mail 2000 enables your computer to "talk to you". You can listen to your e-mails, web pages, documents, help files or anything else you copy to the clipboard.
Answer Tool
Answer your email in minutes instead of hours! Do you find yourself answering the same questions over and over? Save your replies in AnswerTool, then reuse them again and again. Eliminate repetitive typing and dramatically increase your productivity!