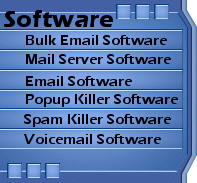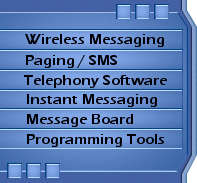 Featured Messaging Software
n

Messaging server software sends SMS and text messages to: pagers, mobile phones, PIMs, wireless devices. Messages can be accepted from: networked computers, email, web pages (CGI), commandline executables, text files, serial ports, modems. Messages can be delivered via: the Internet (SNPP, WCTP, SMTP), modems (TAP, UCP, GSM, TONE), direct serial connections (TAP). Advanced features: redundant outbound connections, message rerouting on failure.

cludes:
n

Communication is critical in todays competitive business world. NotePager Pro allows small businesses to compete in big business, by providing an affordable yet powerful messaging solution. NotePager Pro supports pre-programmed messages, scheduled paging, on-call paging, and group paging, in a robust, yet easy to use desktop application. When time is an issue, NotePager Pro is the answer. It allows for office personnel to contact remote staff in minutes, messages are quickly sent to to alphanumeric pagers, and/or cell phones.


cludes:
n

G-Lock EasyMail is a powerful group mailer which sends your message directly from your PC to the recipient's mail server (without using any ISP's SMTP server). This takes the load off of your mail server and speeds up message sending significantly.


cludes:
n

Email list management and distribution system. Support for most popular email address book formats - importing address books and distribution lists is now a matter of point and click.

cludes:
n

Answer your email in minutes instead of hours! Do you find yourself answering the same questions over and over? Save your replies in AnswerTool, then reuse them again and again. Eliminate repetitive typing and dramatically increase your productivity!

cludes:
n

Advanced Call Center turns your computer into a technologically advanced answering machine. All the features you'd expect are supported. It will catalog all incoming calls with Caller ID information, display a pop-up message and play a personal ring tune for each of your callers, and even announce caller's name and number with voice.

Advanced Call Center is easy to use for recording telephone conversations or playing them back to the caller, or even placing the caller on hold with a melody played to a telephone line.

All your calls can be commented and organized. Each call is stored in WAV format that every sound editing program recognizes. .


cludes:
n

Modem Spy is handy utility for recording phone conversations. It can playback recorded messages via modem or via sound card. There is an option to record all incoming and outgoing calls. You will need voice modem in order to run program. .



cludes:
n

Want to protect Web site content and images? Want to enhance performance, block email extractors and avoid the SPAM risk? Your Internet portal productivity became too low? Looking for software to block content thieves? You need encrypt your HTML files and protect Web site with TagsLock Pro!



cludes:
n

Powerful remailer which sends your message straight out to the recipient's mail server. ADR realizes multi-threaded direct delivery, and so works several times quicker than usual email client. The program has its own internal SMTP server, and can be easily intergated into any email client.



cludes:
n

A powerful, easy-to-use system that quickly implements a professional voice response system into your business. Interactive Voice Guide was designed to provide easy to configure automated call handling systems which can be tailored to individual needs.

The intuitive Graphical System Designer can create your system in a matter of minutes, and the rich functionality and the ease with which Interactive Voice Guide can be customized provides you with the means of creating the system you want. Interactive Voice Guide is fully TAPI compliant, and can work with a wide variety of voice modems and telephony cards (e.g. Dialogic).

cludes:
n

Mailing lists and address books verifying to determine which of email addresses are dead. The program is multithreaded, so high speed of verifying is provided. Supports ODBC SQL and works with Socks5 proxy (to use in LAN). COM/ActiveX interface and CGI/ISAPI modules allows to integrate it into your own web pages and software; samples for ColdFusion, MS IIS, VB, VC++, Delphi are provided.



cludes:
n

convert images into WBMP, or to create WBMP images of any complexity on the fly, perform image-processing operations with WBMP images, draw charts basing on your data, draw strings with self-written monospaced fonts, manipulate images..

cludes:
n

Active Phone Server (APServer) is an application designed to manage your incoming and outgoing phone calls. All essential features are supported: advanced answering machine, caller ID function which displays a caller's information when a call is received, and enables you to customize voices and melodies for each phone number. Active Phone Server also includes an ISP dialer which allows you to dial your ISP number(s), notifying you with a sound when a connection is established (or a connection is severed), and an e-mail checker which notifies you of any new messages, and displays the subject and several lines from each message.



cludes:
n

Now you can listen to your e-mail using any touch tone phone, anywhere anytime. E-mail Via Phone TM is a software product which runs on your home or office PC and lets you access your text E-mail messages using Microsoft (R) text-to-speech technology. .



cludes: