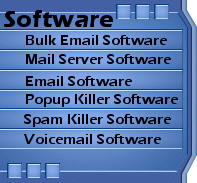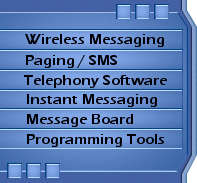 Instant Messaging Software
LanTalk
Instant Messaging Software -- companies that utilize LanTalk, instant messaging software, have a competitive edge in todays fast paced business world. By increasing corporate communications, businesses are able to anticipate market changes and respond in an effective fashion, being proactive rather than reactive. Because LanTalk resides on the companies internal network or LAN, there are not the security risks associated with many other instant messaging applications. .
ICUII
ICUII Video Chat Version 5.9 DOWNLOAD (Talk to family and friends / send and receive Quick Messages).
IM Speak
Instead of just seeing text, you'll be hearing your friends talk to you in a voice you assign to them. You can also adjust the speed or pitch of incoming messages for each buddy. IM Speak! can also speak any text from your clipboard, import new voices for buddies, and work with translation dictionaries to translate incoming text into different languages and accents. IM Speak! is compatible with MSN and AOL IM.
Darn! NotePager Pro Bundle
Includes 2 programs! Darn! Don't Forget Plus! and NotePager Pro Darn! Don't Forget Plus! is a simple reminder program. It excels at remembering birthdays, anniversaries, car payments... all your important events. It gives you plenty of warning so you can get just the right gift, or prepare for that meeting. This includes NotePager Pro software that allows for text messages to be sent to pagers and cell phones. By using Darn! Don't Forget! in conjunction with NotePager Pro, birthday reminders and medication alerts are sent automatically to your pager or cell phone. .
no photo available

Absolute Live Support
The Complete, and feature-packed software solution for increasing your sales, providing technical assistance and increasing your customers satisfaction by delivering Live Customer Service on your own web-site! Sounds good?, It is Good! Absolute Live Support is a customer service tool for your website that enables web site visitors to instantaneously communicate with your customer service personnel. Web site visitors simply click a Live Support button and are connected with one of your customer service representatives. Your company representative then assists the visitor by providing information, links, graphics, or even guiding them through your web site.
Active Messenger
an instant messaging system for enterprise. It can send message and documents between your co-workers instantly in both LAN and Internet . Set up an instant message system in your own office (enterprise)

Whisperer Voice Messenger
allows you to quickly send voice messages to your friends and co-workers. No more emotions needed to illustrate your mood. No more complicated phrases describing your needs. All you need to do is take the microphone, click the 'record' button and say what you want to say! Nothing could be easier.