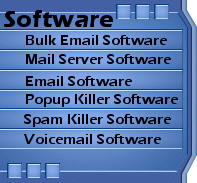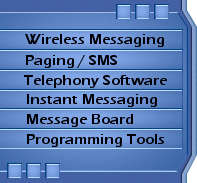 | | |
| --- | --- |
| | Messaging server software sends SMS and text messages to: pagers, mobile phones, PIMs, wireless devices. Messages can be accepted from: networked computers, email, web pages (CGI), commandline executables, text files, serial ports, modems. Messages can be delivered via: the Internet (SNPP, WCTP, SMTP), modems (TAP, UCP, GSM, TONE), direct serial connections (TAP). Advanced features: redundant outbound connections, message rerouting on failure. |
cludes:

no photo avaialble

WebGate
WebGate is a fast, easy, and reliable way to stay in contact with your out-of-office personnel. Individual webpages or group webpages and webpages with drop-down lists can also be automatically created and maintained by WebGate. Messages sent from these web pages can be received on cell phones or pagers. Email messages or notification of newly received email can also be sent.
no photo avaialble

NotePager Net
A full feature network paging software that allows for all users on a network to share a commmon modem, phone line and database to facilitate the sending of text messages to pagers, cellular phones or other messaging devices. NotePager Net is designed for business use and can be scaled to meet the size of the business.
NotePager Pro
Send text or SMS messages to pagers, mobile phones, and PIMs using an easy to use desktop application. Send messages through the Internet or a modem. Group messaging, pre-programmed messages and scheduled paging. Send to anyone, anywhere, any time!.
no photo avaialble

Mobile Converter
Mobile Converter is a plugin for your WebServer (currently supports IIS 4 & 5) and will detect if the client is a WAP client, and then transparently: Performs an online convertion of HTML code to WML code immediately before it is sent to the client. You can even "WAP" to your existing HTML site as long as the content fits into the WAP limitations. Performs an online validation of any WML output so it will be accepted by the Wap device even if you have a few errors in the WML code. The Mobile Converter will work with both static HTML pages as well as dynamic HTML applications, for example, ASP, Java Servlets, CGI.