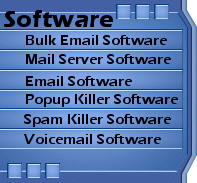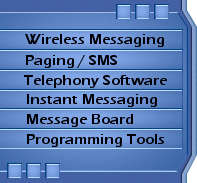 Programming Tools Software
| | |
| --- | --- |
| | A network paging gateway that can use a commandline/ASCII interface to send text messages to pagers and cell phones. The interface allows for the scanning of a predetermined file or for commandline paging. Serial port monitoring is also available. Frequently used to expand functionality of existing applications. |
| | |
| --- | --- |
| | Easily create, edit and publish rss feeds. New RSS feeds can be quickly and easily created with FeedForAll. Advanced features enable you to create professional looking rss feeds quickly. Existing RSS feeds can be repaired and enhanced with FeedForAll. RSS feeds generated by other means can be automatically repaired, so that they conform to the RSS 2.0 specification. Existing feeds can be enhanced to contain advanced feed properties. |

cludes:
no photo available

WebGate
WebGate is a fast, easy, and reliable way to stay in contact with your out-of-office personnel. Individual webpages or group webpages and webpages with drop-down lists can also be automatically created and maintained by WebGate. Messages sent from these web pages can be received on cell phones or pagers. Email messages or notification of newly received email can also be sent.
no photo available

Voice XML XDK
program your computer to have spoken dialogues over your phone with full bloodied email (Internet) manipulation. You can connect to the Internet, download and read aloud emails, send auto reply emails or simply use the Call Center as a Caller ID Answering Machine.
| | |
| --- | --- |
| | Want to protect Web site content and images? Want to enhance performance, block email extractors and avoid the SPAM risk? Your Internet portal productivity became too low? Looking for software to block content thieves? You can encrypt your HTML files and protect Web site with TagsLock Pro! |
Instant Messaging Suite - Active X
Instant Messaging Suite lets you build your own MSN Messenger compatible private messaging system with the LionKnight MSNXFer Control and LionKnight Server or send and receive MSN, File, Binary or String messages with the MSNXfer, FileXFer, MsgXFer and BufferXFer components.