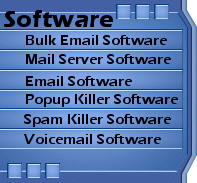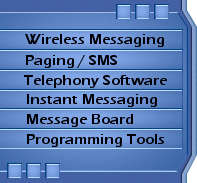 Spam Agent b
SpamAgent is a powerful spam filtering and reporting tool that allows you to keep spam from reaching your inbox. SpamAgent comes with over 1500 preset filters to stop spam from reaching your inbox - and allows you to fight back against spam with the click of a button! .
Spam Counterstrike
There are two mainstream approaches on how Spam Filtering software interacts with your electronic mailbox. The "Competing" method is where Spam Filter software looks at your mailbox independently of your email program. You must use the Spam Filter before using your email program in order for it to be effective. The "Proxy" method has Spam Filter software working with your email program to relay commands to your mailbox .
Spam Crusher
Email. It's become an important part of life. You use it to communicate with friends and loved ones. You use it to do business with people around the world. Both adults and children use it to quickly exchange thoughts and ideas with their peers. And, unfortunately, some people use it to bombard you with "SPAM." SPAM is the techie word for "junk" or "unsolicited" email" and it's flooding the Internet and *your* inbox! If you want to take steps to drastically reduce the amount of SPAM you receive, take a look at SPAM CRUSHER! Spam Crusher is designed to filter unwanted email, while allowing the email you want to receive. Spam Crusher can be configured to filter multiple email accounts.
Email Express
Anti spam software with all of the great features as the standard version, plus it is skinnable and has many built-in tools for researching spam email..
McAfee Spam Killer
Get only the email you want and nothing else. McAfee.com SpamKiller quickly and easily helps you stop spam from polluting your inbox with advanced rule-based and list based filtering. Now works with MSN/Hotmail.
Spam CSI
Crime Scene Investigator treats Spam like a crime and goes after the criminals. The program takes advantage of the fact that all spam messages contain web links, that they want you to click on. It scans your POP mailbox and investigates the links found in your new email messages and then crawls through their web site to look for evidence. It will then score both the email message and web site using a comprehensive 1,200 word database and proprietary forensic techniques that will let you know exactly what is going on behind the message. You can then choose to have the program send a complaint to their ISP or the State Attorney General, or simply delete the message.
no photo available

AntiSpam
AntiSpam is a system tray utility that continually checks your e-mail and filters out unwanted spam .
Spam Inspector
Spam defense is quickly becoming a necessary component of your online security and privacy protection. With email communication quickly becoming filled with more hazardous, offensive, and annoying spam than legitimate emails, you can not afford to not protect your mailbox with the SPAM INSPECTOR. If you are tired of the frustration of receiving more spam than real email, Download the Free Trial, and find out why the Spam Inspector is one of the most downloaded and used anti-spam software available.