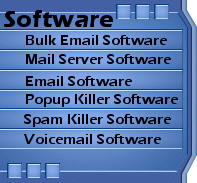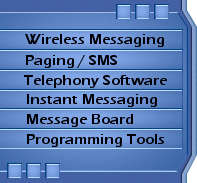 Unified Messaging Software
Phone Works
an easy-to-use and powerful telephone, voice mail answering system, and fax messaging solution for your PC. PhoneWorks solves your messaging problems by dramatically simplifying how you read, listen to, and manage your daily information. Accessible remotely while you are on the road, PhoneWorks acts as a central database that stores and manages your e-mail, voice mail, and fax messages. .
| | |
| --- | --- |
| | Messaging server software sends SMS and text messages to: pagers, mobile phones, PIMs, wireless devices. Messages can be accepted from: networked computers, email, web pages (CGI), commandline executables, text files, serial ports, modems. Messages can be delivered via: the Internet (SNPP, WCTP, SMTP), modems (TAP, UCP, GSM, TONE), direct serial connections (TAP). Advanced features: redundant outbound connections, message rerouting on failure. |
| | |
| --- | --- |
| | one simple solution in the complex world of the Unified Messaging System. It's a centralized environment designed to easily manage and have full control over the server itself and its services. To add a client, to give it the permissions, to enable the services, to automate the operations, to quickly monitor whether everything is running ok, even if you are outside the compan |
no photo available

1.st Phone Office
By telephone you gain a comfortable and complete access to Outlook (MS Outlook, Outlook Express, Outlook Exchange) or Lotus Notes, access to address book, scheduler, e-mails. By text to speech all the informations are read by a selectable voice. Telephone service providers are making telephony cheaper. But there is no chance to use providers on public or hotel phones. The conference call abilities of PhoneOffice allow you to use providers even in hotel or from public phones. The range of features will be continuously enlargened, so that in the end your Phone Office will be an universal tool for Unified Messaging, telecommunication, informational services and PC-Control.
no photo available

fax@mail
Unified Messaging means a concentration of different messaging methods in one central feature: your mail box. With fax@NET we offer you another element in our series of "integrated mail services". fax@NET will receive your fax messages and send them per SMTP to your mail account.