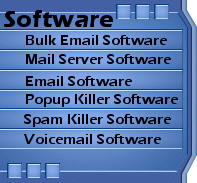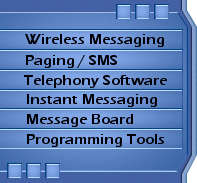 | | |
| --- | --- |
| | A powerful, easy-to-use system that quickly implements a professional voice response system into your business. Interactive Voice Guide was designed to provide easy to configure automated call handling systems which can be tailored to individual needs. |
cludes:

Phone Works
an easy-to-use and powerful telephone, voice mail answering system, and fax messaging solution for your PC. PhoneWorks solves your messaging problems by dramatically simplifying how you read, listen to, and manage your daily information. Accessible remotely while you are on the road, PhoneWorks acts as a central database that stores and manages your e-mail, voice mail, and fax messages.
Active Phone Server
Active Phone Server (APServer) is an application designed to manage your incoming and outgoing phone calls. All essential features are supported: advanced answering machine, caller ID function which displays a caller's information when a call is received, and enables you to customize voices and melodies for each phone number. Active Phone Server also includes an ISP dialer which allows you to dial your ISP number(s), notifying you with a sound when a connection is established (or a connection is severed), and an e-mail checker which notifies you of any new messages, and displays the subject and several lines from each message.
Call Wave
Hear who's calling while you're online! Avoid the cost of an extra phone line. It downloads in less than a minute. It's EASY. (only available to US and Canadian residents)
Advanced Call Recorder
Advanced Call Recorder records telephone conversations to your computer's hard disk. Advanced Call Recorder stores calls as standard Windows sound files. Advanced Call Recorder can record conversations as long as your hard disk can store. Advanced Call Recorder is Caller ID compatible so there is no need to type numbers and names of calling parties.
no photo available

Dialgo Personal Call Center
program your computer to have spoken dialogues over your phone with full bloodied email (Internet) manipulation. You can connect to the Internet, download and read aloud emails, send auto reply emails or simply use the Call Center as a Caller ID Answering Machine.
Advanced Call Center
Center is a full-featured yet easy-to-use answering machine software for your voice modem. All necessary functions are supported: Caller ID lets you see and hear who's calling via screen pop-ups, distinctive rings and caller's name announcement with speech synthesis. "Black" and "white" list functions filter calls based on caller database, call origin and other parameters.
no photo available

Voice Mailbox System
a professional CTI applicaiton based on Dialogic telephony card. It help you to communicate with other people. Some features are listed as following: Leave message to the mailbox selected at anytime. Owner can access the messages of his voice mailbox. Such as hear message,delete message,transfer message. Owner can manager his mailbox by phone remotely. Such as modify the password. Owner can setup his individual greeting message PassWord verification before owner access.
Voice Mail Master
Allows the Panasonic Voice Mail owner to take control of Voice Mail quickly and easily. Time and date changes are simplified, along with editing of Mailboxes, Custom Service Menus, Notification Device Settings, Daylight Saving, Holiday Settings and System Working Reports that can be produced to show your system setup at your convenience.