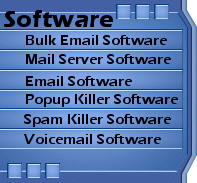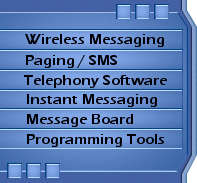 Wireless Messaging Software
| | |
| --- | --- |
| | A network paging gateway that allows text messages to be sent to cell phones, pagers and PIMs from any combination of six different interfaces (e-mail, web, GUI, TAP-in, Serial and commandline). |
cludes:

no photo available

WebGate
WebGate is a fast, easy, and reliable way to stay in contact with your out-of-office personnel. Individual webpages or group webpages and webpages with drop-down lists can also be automatically created and maintained by WebGate. Messages sent from these web pages can be received on cell phones or pagers. Email messages or notification of newly received email can also be sent.
no photo available

NotePager Net
A full feature network paging software that allows for all users on a network to share a commmon modem, phone line and database to facilitate the sending of text messages to pagers, cellular phones or other messaging devices. NotePager Net is designed for business use and can be scaled to meet the size of the business.
| | |
| --- | --- |
| | Mobile Internet information and services in the palm of your hand. Devices such as Pocket PCs and Handheld PCs which run our EzWAP micro-browser, offer easy and secure access to relevant Internet/Intranet information over wireless networks thanks to our integrated support for WML 1.2.1, cHTML and XHTML basic standards. Simply install EzWAP on your device, connect to your Internet Service Provider (ISP), and then you can browse Mobile Internet sites as easily as you currently browse HTML sites using a standard web browser. |
NotePager Pro
Communication is critical in todays competitive business world. NotePager Pro allows small businesses to compete in big business, by providing an affordable yet powerful messaging solution. NotePager Pro supports pre-programmed messages, scheduled paging, on-call paging, and group paging, in a robust, yet easy to use desktop application. Send text or SMS messages to pagers, mobile phones, and PIMs using an easy to use desktop application. Send messages through the Internet or a modem. Send to anyone, anywhere, any time!